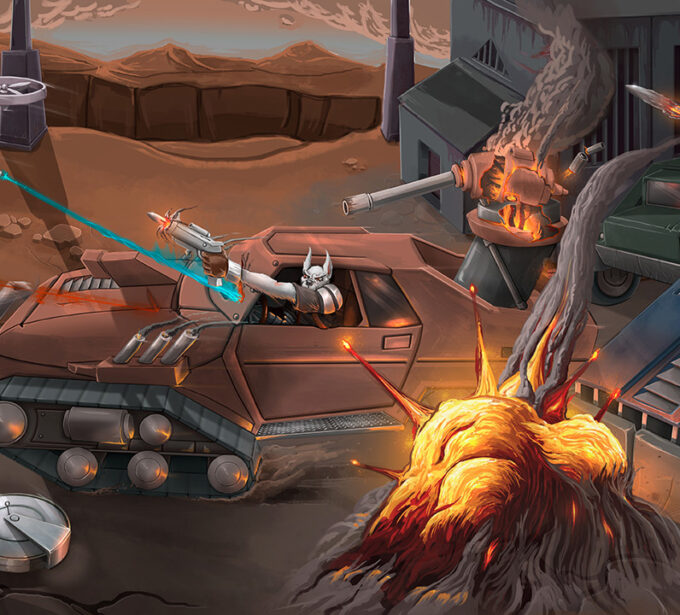 Project Introduction
The 1st apocalyptic death race CCG in the world! Collect unique cars, arm them with powerful weapons or tricky traps and start a fight!

UNIQUE MECHANICS
Insane Rally combines the excitement of a death race and the strategic planning of a CCG.

QUICK START
Are you a beginner in CCG? Or can't wait to check out the gameplay? You dont need to spend hours building your first deck. We have made deckbuilding fast and simple! Come on, the enemies are waiting at the start line!

FIGHT IN A TEAM OR ON YOUR OWN
Insane Rally – is a first CCG that allows for up to 8 players to participate in a battle at the same time. You can play alone or in a team of 2 to 4 players. CCG has never been so dynamic and exciting.

DIFFERENT WINNING STRATEGIES
Use different methods to reach the finish line first – be the fastest, or the toughest. Shoot your enemies or place obstacles and traps. This is war!

BE UNIQUE
There are more than 160 different playing cards you can combine freely. Win in your own style!

BRUTAL SETTING
What can be better than a powerful V8? Only a V8 in a heavely armed car, that was created to race through the ruins of civilization and fight mutants and thugs, living in the wastelands of the apocalyptic world!

Download Insale rally for free! The wasteland needs fresh blood!

About Developer
We have an unusual team: Oleksiy Burchak – former streamer and e-sportsman, Volodymyr Motorny – former doctor/sales representative, Serhiy Musienko – owner of a construction company. We are interested in the development of eSports in Ukraine, and we spent a lot of our efforts, time and money to create a unique gameplay of InsaneRally. We've participated in the GG Conference twice, and we're also working with Signum Games to develop a desktop version of the game and launch it on Kickstarter.