Toys Quest
UFO Cat Games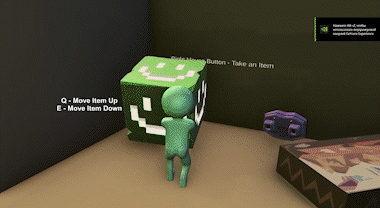 A fun platformer puzzle game in which you play as a little man for whom the things we're used to seem just enormous.
Explore, find hidden objects, build, use anything you can reach, solve puzzles and do whatever you can to get to new places.
Every puzzle in the game can be solved in a variety of fun ways. You can play the game alone, but it's much more fun and interesting to play with friends.
- The game is fun and interesting to play alone
- The game is fun and interesting to play with friends
- The game is fun to watch when someone else (streamers) is playing it
The boy made a big drawing. In his childlike way, he has depicted many fantasy worlds and subjects in the drawing-a kind of map of adventure. There is a distant planet, a cemetery and a haunted house, a magical forest, a pharaoh's tomb, and even the Jurassic world in the drawing. Waking up in the morning, the boy discovers that his painting is gone, and all that is left of it is a scrap of paper with a little man on it. He sadly puts this piece of paper in his box of things: he was going to take it to the attic and forget about them.

When the boy leaves, the little man, drawn on the remaining fragment from the drawing, materializes in this box - that's where the game begins. This little man is our character.
Our goal is to find all of the drawing fragments in the boy's house and put them together.
Each fragment of the drawing (adventure map), opens us a separate small level with its own unique story and setting.
-
Through the prism of understandable things and children's fantasies in the game will raise topics such as friendship, mutual support, the ability to be in harmony with himself, even in spite of seeming shortcomings.
About Developer
Hi. My name is Artem. I am a solo indie developer.
My game Two Against the Legion is coming out soon.

And now I've started a game called Toys Quest.

The game idea seems to me promising and I intend to find a publisher and build a small indie team to develop it.

I want to build a studio that will make games that bring people together, that teach people to work together and get to know each other better.