Save The Love
Kalyna Games
A fun and relaxing game with many challenging puzzles. An epic love story full of betrayal and revenge. Help Jennifer destroy her enemies, build her wardrobe, upgrade her home, solve problems and Save The Love. 

 
Jennifer sets out on a journey to save her family and her one true love, but she cannot solve the puzzles in front of her on her own. To help her, you need to pull the pins in the correct order. If you are successful, Jennifer can destroy her enemies and move on to the next challenge. Let's begin your puzzles quest.
Engage in several fun and challenging puzzles with Save The Love - pull the pin game. An addictive puzzle game where you must help our hero, Jennifer solve brain teaser puzzles. Your mission is simple – pull the pins in the correct order and help Jennifer keep her family together. If you are successful, you will complete each level, collect the diamonds, upgrade Jennifer's house and create an amazing dressing room.
Let's get started with this fun adventure and explore a new world of gaming with the exciting Save The Love -  Pull the Pin Game.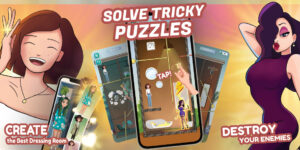 Save The Love Game features:


Single player game 


One finger control



Free to play, play it anywhere anytime


Super fun gaming physics



Suitable for all ages


All new game experiences 



Over 50 levels and always update continuously


No time limited, play at you own pace


Help Jennifer solve puzzles and complete her quest


Collect diamonds and create the best dressing room


Upgrade your home



Easy to learn, but hard to put down



Suspenseful and Fun


About Developer
We are a team of ambitious professionals consisting of Junior and Senior Developers, Graphic Designer, and Project Manager. Each one of us is proficient and enthusiastic expert in his own field. We combined our efforts to create best games which are inspired by life situations.