Liber
OLKON GAMES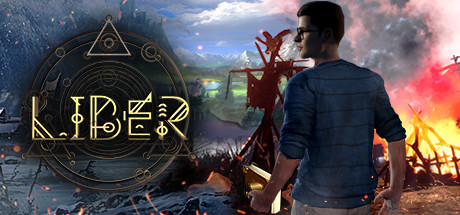 We all dreamed of adventures full of mysteries and mysticism, dreamed of finding ourselves in unusual situations and emerging from them as a hero. Solve riddles, fight enemies, fight adversity and help the main character Alex unravel the hidden meanings of Liber.
What will happen if an ordinary student falls into the hands of an ancient book with the texts of a forgotten civilization, capable of transporting the reader through space and time? Find out about it in Liber — a 3D person action adventure, where fragments of past eras are mixed like a kaleidoscope!
In Liber, you have to try on the faces of two completely different heroes who find themselves in an unfamiliar environment. What adventures and challenges lie ahead? Will they be able to find a common language with each other? How will the incident affect them? Will they be able to find their way back?
Let's find it out!



Unique accidental time-travelers setting


Lots of ways to interact with the world;


Deep plot and colorful characters;


Integrated combat system - hand-to-hand combat, fencing, shooting;


Variability in the passage of sections of the game;


Large locations, different in visual and mechanics;


High-quality and detailed picture created with UE4.


General information


Genre: Action-Adventure.


Setting: Accidental time-travel


Stylistics: early Middle Ages, Wild West, modern times.


Visual style: realism .


Camera position: third person view (3-rd person).


Travel time: 3-6 hours.


Type: single-player


Distribution format : premium model, no DLC planned.


Gameplay
Gameplay is based on the following elements:


Exploration - movement (running, walking), acrobatics.


Confrontation - shooting, melee (with and without weapons), stealth.


Communication - interaction with a partner or characters in and out of combat.


Solving riddles - solution puzzles and search for secrets.


About Developer
Work on the project began in September 2020. We were inspired by games like Uncharted. I wanted to make a game with a variety of mechanics and a strong storyline, based on one of the reflections on time travel.

The team has 2 main developers, other developers also took part in the project to create locations and puzzle mechanics. In the gaming industry, there are no boundaries in communication, so people periodically write to us, offering their participation in the project. We have a screenwriter, 3D artist, composer, American actors who have already voiced all the scenes and lines for the game.