Main Idea
Our idea is to recreate an atmosphere of insanity in the 80s with a hint of irony and mix different genres to get a unique experience.
Main Description
Concept
2D pixel action adventure with Beat' Em Up and puzzle elements in 80s settings.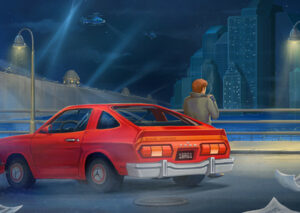 Summary
Action adventure with Puzzle and Beat' Em Up elements inspired by "Taxi Driver", "Escape from NY" movies about a former cop who fights bandits and completes stranger's missions to earn money. He tries to get out of the island, embraced by chaos and anarchy due to the beginning of the world war. Alternative history story line concerns a crime-ridden United States in 80's.
About Developer
Our team consists of 4 people.

Grayer Aleksanyan — Unity developer and the game sound designer
Eugene Lamantine — Lead Artist and game writer
Oxana Harujena — The game and level designer
seneka123 — Lead programmer and unity developer